Someone asked in a previous thread about where to buy a sitar so I thought I would write a quick post about it. Considering which sitar to get and where to get it from is a mine-field of a subject.
Many sitars that you see on ebay are junk instruments that were never made to be seriously played and should be avoided at all costs if you want to do anything with it other than hang it on your wall for decoration (if this is what you want then, by all means, buy a cheap one from ebay). There are some real gems to be had but unless you really know what you are looking for then you will most likely be ripped off with something that will be next to impossible to learn on.
Obviously, you need to consider how much you want to spend. With sitars, if you buy from a reputable source, the more you spend the more you get. Generally, the more expensive a sitar is the better it will sound, the easier it will be to play, and ultimately, the quicker you will learn because you won't be battling with silly problems such as the tuning dropping out every two seconds. So spend as much as you can, it will be worth it in the long run. Good sitars can last a lifetime so spending a good amount now won't seem like so much in twenty years time when you have worn it in and completely fallen in love with it (and presumably can play it well).
You also need to consider which type of sitar you want. There are two main types, Kharaj Pancham and Ghandar Pancham. Kharaj Pancham is the type of sitar that Ravi Shankar plays and Ghandar Pancham is the type that Vilayat Khan and Shahid Parvez play.
The main difference is the string set up. The Kharaj has two bass strings, which you can hear in many of Ravi's recordings when he plays whole sections on these. The Ghandar has one less string; one of the bass strings is replaced by an extra thin steel string and the other bass string is removed completely. This can create a more chordal sound yet sounds very clear, focusing a lot of the attention on the main (baj) playing string.
Where to buy from?
Well, these are a couple of the most reputable places to buy:
http://www.sitar-tabla.com/sitar.htm
- This site is run by a very friendly and helpful guy, he is very knowledgeable and will be more than happy to discuss your needs and recommend something that fits your price range.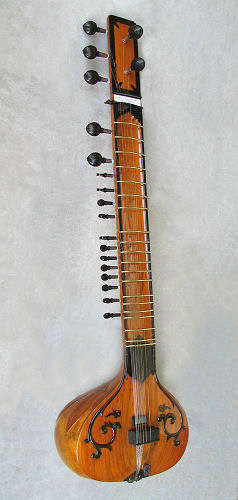 http://www.karaseksound.com
- Again, an excellent place to buy from with a very nice man running it. His sitars are some of the nicest I've seen, you can't go wrong if you buy from here.
http://www.aacm.org
- This is also a great place to buy from. I haven't had any personal dealings with them but I know they are well respected, know what they are talking about, and, most importantly, will not sell you junk.
So, there you go. All of these stores sell accessories as well so if you need strings or mizrabs then just send them an email and they'll sort you out.